City of Greater Dandenong Hard Waste

Residents are entitled to one free hard waste collection per financial year.

Your hard waste collection entitlement is 3 cubic metres – 3 metres long x 1 metre high x 1 metre wide. In feet this equates to 10ft x 3ft x 3ft.
Additional collections can be booked at a cost of $107 per collection (3 cubic meters); plus $25 each for mattresses/bed bases and $29 per fridge or air conditioner. Collection to be paid by credit card over the phone.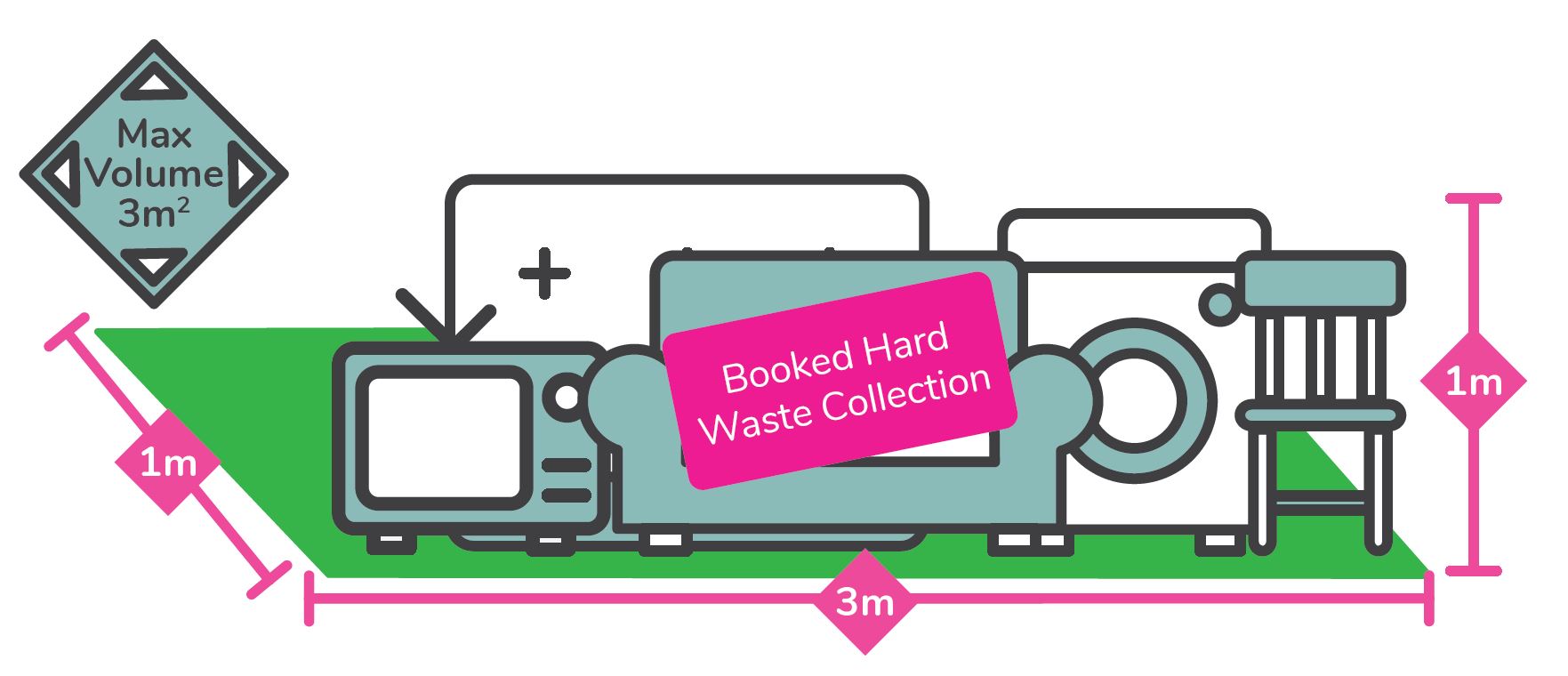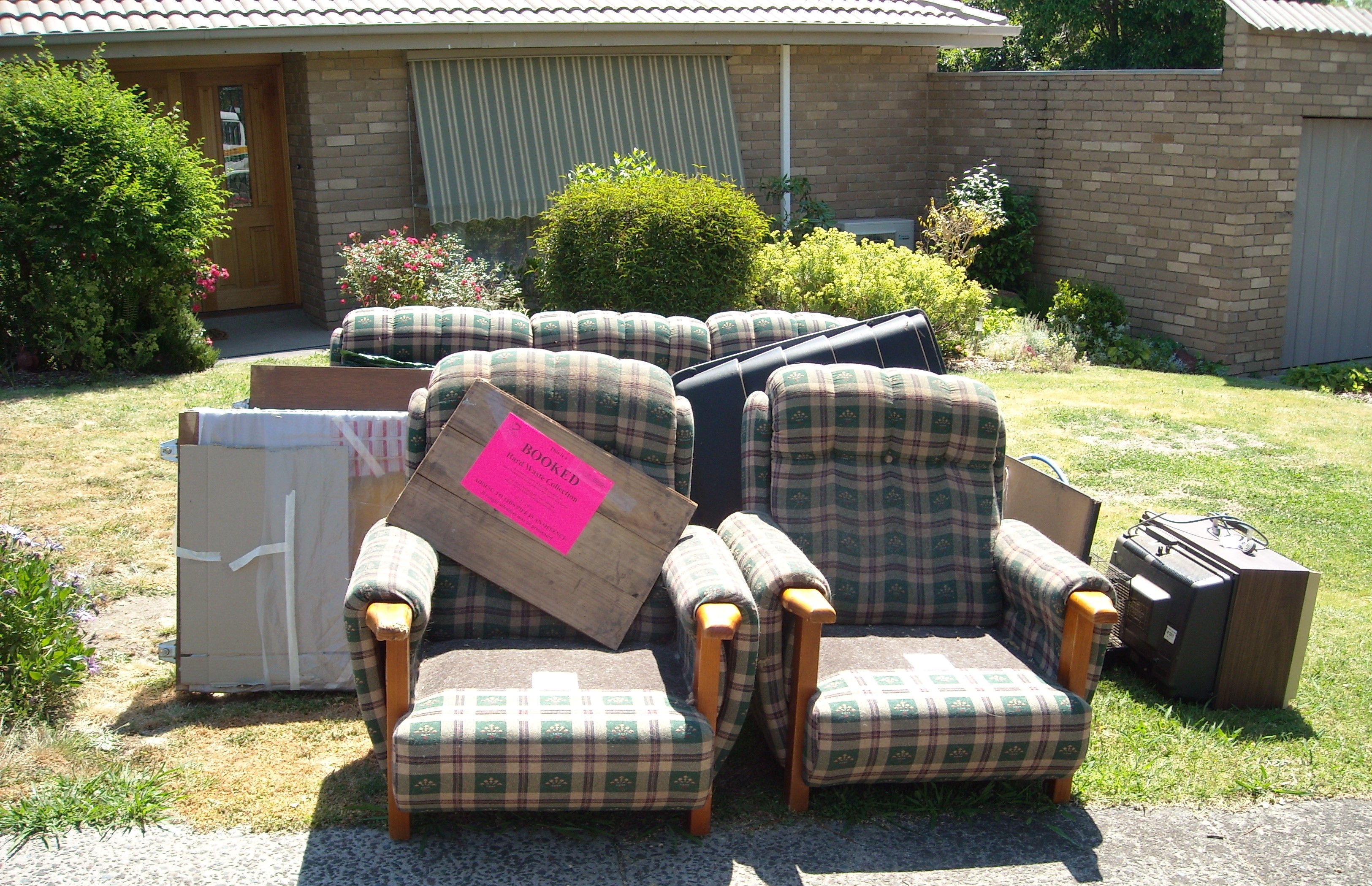 Do not place any waste out until your booking is confirmed.

Please note- throughout December there will be limited numbers of collections due to the Christmas period. Please book your collection ASAP and note there may be an extended wait for your hard rubbish to be collected.

Please read the information below along with what is and is not acceptable for information regarding your hard waste collection.
You should receive a confirmation email immediately after booking outlining your collection week, when and where to place out the waste, the acceptable and unacceptable waste and the amount of waste that can be placed out.
Hard Waste Collection
City of Greater Dandenong is committed to reducing the amount of waste being sent to landfill, through re-using and recycling waste.

Greater Dandenong residents are entitled to one free hard waste collection each financial year (1 July to 30 June).

The hard waste service is 'at call', meaning residents can book a collection when it suits them. To find out more about the hard waste collection service view the hard waste brochure.
Booking instructions
Bookings will be confirmed by email directly after booking is placed. A confirmation SMS will be sent the weekend before your collection is to take place.

You are encouraged to place your items placed neatly either within two metres of the footpath at the front of the property with easy access via the drive way for the collection crew to pick up (by 6am Monday morning for collection during that week).

Items should be no heavier than two people can lift and less than 1.5 metres in length.

It is very important to follow the guidelines. Unacceptable items will not be collected.

If you have not placed your items out on time your free collection will be forfeited.

The maximum amount of waste allowed to be put out for collection is three cubic metres.


Items placed on the nature strip without a booking are considered as illegal dumping and may result in a fine.

Do not leave any items of value near hard waste piles as these will be deemed as hard waste and if taken, no compensation will be given
What Items can I put out ?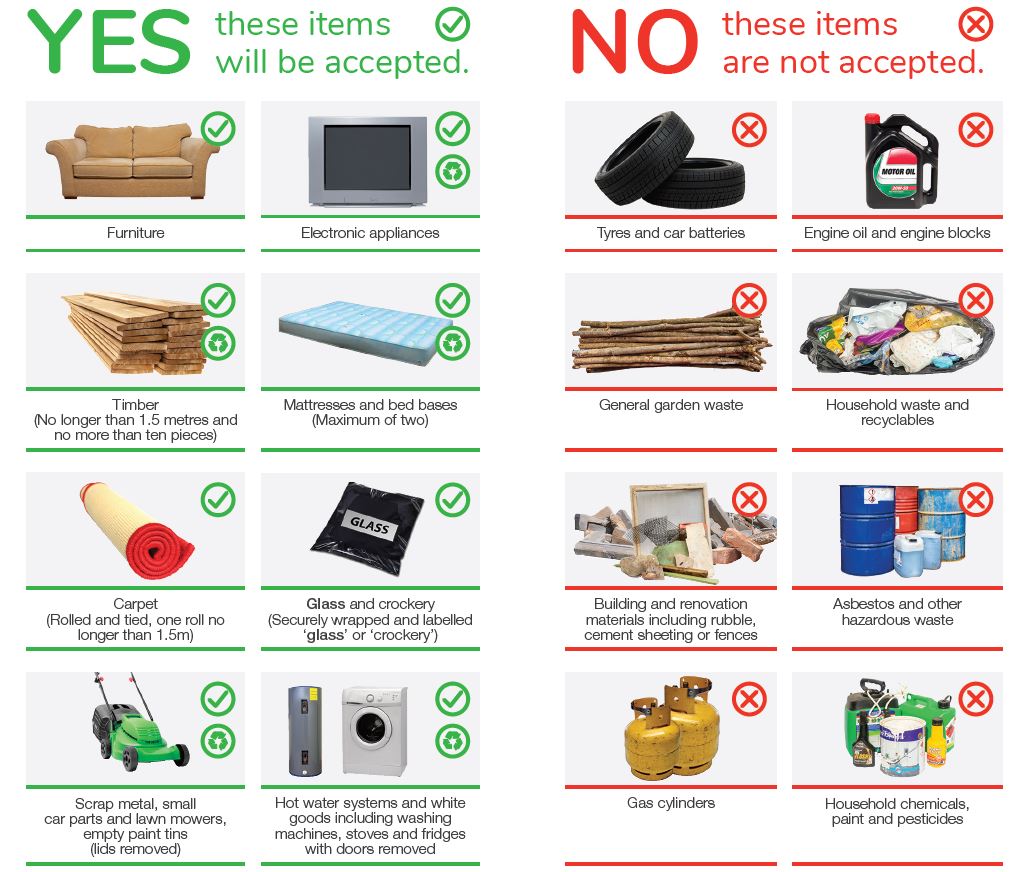 Transfer stations and recycling disposal centres
Greater Dandenong does not have a Council-operated transfer station. There are a number of transfer stations close to Greater Dandenong. To find out your nearest transfer station, please visit www.greaterdandenong.com/waste It is always best to phone first to confirm opening hours and if there are any disposal fees.
Items may be collected by multiple trucks. To save space and keep costs to a minimum, bulky items are compacted in the trucks. Most items are recycled or reused where possible. All items are taken to the Knox Transfer Station for sorting and recycling. Items that are reusable are sold at the Recycled Goods Store. For a short video on what happens to your waste, visit our contractor's website.

Consider donating, selling or giving away items in good condition first.